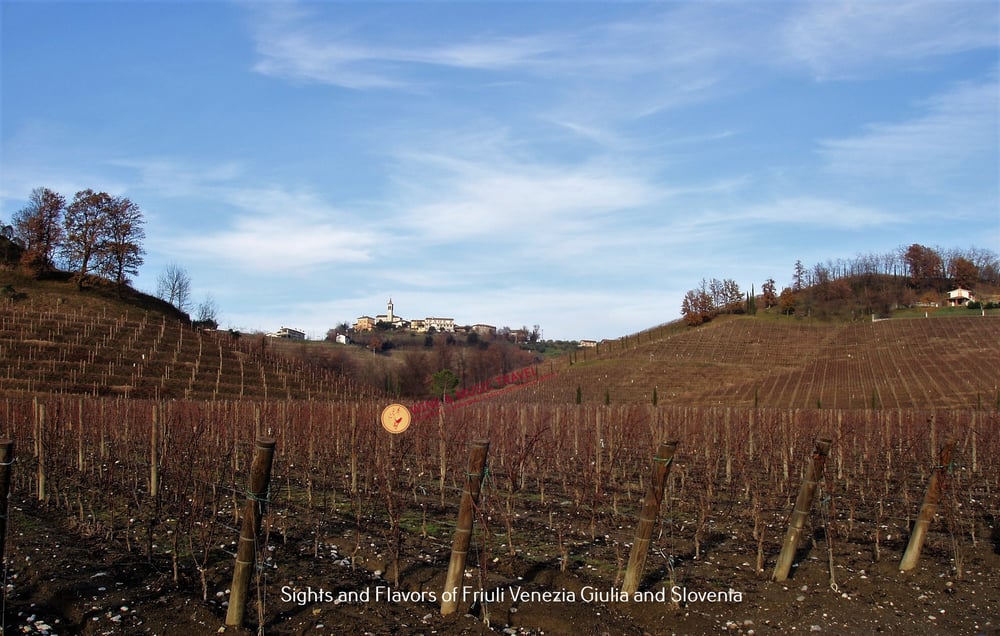 You'll begin exploring Friuli Venezia Giulia in Gorizia, a perfect choice thanks to its location at the foot of the Alps, straddling the Slovenian border and at the confluence of the Isonzo and Vipava Valleys, Gorizia is protected from the cold Bora winds, thus it retains a mild Mediterranean climate making the Collio' s weather conditions perfect for vine cultivation.

Friulian wines will have a prominent role and on this great trip and you will be thrilled to meet some of the most respected winemakers in all of Italy, most of whom, due to the perfect climatic conditions in this region, are committed to biodynamic and all-natural wine-making practices.
Josko Gravner, famous and respected for adapting the ancient practice of using clay amphorae for the aging of some of his highly prized wines, professes, "I am convinced that wine is a product of Nature, not of Man, whose role therefore is to accompany its maturation process while avoiding any artificial intervention." Radikon's wines, now led by Saša following Stanko's passing, still reflect the "Slovenian" style of Friulian winemaking—extended maceration periods, the use of large oak barrels, and manual harvesting method-all resulting with their uncommonly deep yellow color of the white wines, also characterized by their complex and arresting aromas and palate. Other featured producers such as Jermann, Ronco dei Tassi, Livio Felluga Ronco dei Cialli and many more. A foray into Slovenia will take you to Movia and Ales Kristianic whose family has owned the estate since 1820 and yet another great producer, Jermann, whose state-of-the-art winery was inaugurated in 2007 and was designed exclusively for the vinification of their Capo Martino, Vignatruss Dreams and Vintage Tunina.
Activities to Enhance Your Friuli Venezia Giulia Wine Experience

Meals served at the wine estates or exquisite local restaurants, perfectly paired with and in the company of the vintners

Cooking classes focused on the rich local gastronomy and in perfect harmony with the local wines

Opportunities to include other magnificent Friulian destinations resplendent on the banks of the Adriatic Sea.

Attend seasonal gastronomic events featuring the highly prized San Daniele prosciutto